http://news.hjnews.com/allaccess/centers-continues-to-shine-for-usu/article_6b2fd692-c2c2-11e3-baef-0019bb2963f4.html Devin Centers
Devin Centers is the ultimate team player.
No matter what the coaches ask him to do, he's going to do it without any hesitation.
Needless to say, it's paying off. Never was that more evident than Saturday afternoon during Utah State's annual Blue-White Spring Game at Romney Stadium.
Centers had an interception, forced a fumble and recorded four tackles, but it still wasn't enough as the offense edged the defense 78-77 in front of an estimated 6,000 fans.
"The coaches feel like I can play anywhere, so wherever they need me to play (I'll do it)," Centers said. "They're going to send me in there, I'm going to compete and I'm going to do what we need just to get it done.
"I'm a team player. I like to do whatever it takes for us to get a win."
Nick Diaz kicked a 39-yard field goal on the final play of the game to lift the offense to the thrilling victory.
"As far as the game, can it get any closer than that?" USU head coach Matt Wells said. "We tried to create some excitement and get it down to the end. To see Nick Diaz hit a game-winning field goal is cool and a neat way to end the spring.
"It's been very productive and I thought today was good in a lot of ways. It can get a little sloppy at the end when you start moving guys around and taking guys in and out but that's OK."
With a special scoring system, the offense got six points for a touchdown, three points for a field goal, two points for a rush of 15 or more yards, two points for a pass of 20 or more yards, one point for a first down and one or two points for respective conversions.
The defense earned six points for a touchdown, five points for a turnover, three points for a three-and-out, three points for a blocked field goal, two points for a stopped drive, sack or tackle for loss, as well as one or two points for failed respective conversions.
"The defense lost so that's never good," said linebacker Kyler Fackrell, who had two of the defense's five sacks, as well as three tackles. "I think a lot of guys really stepped up. We did a pretty good job overall. They had some big pass plays, which is not ideal.
"A lot of guys like Devin Centers played great. Alex Huerta made a lot of plays. Overall, the spring has been great to develop a lot of guys."
The 5-foot-9, 190-pound sophomore cornerback intercepted a pass by Craig Harrison late in the second quarter and returned it 80 yards, giving the offense a first-and-goal at the 2.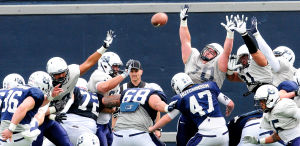 "I feel like I would have gotten in, but we can't hit quarterbacks," Centers said. "I couldn't just run through the quarterback, I had to cut it back, but it's OK. In a game, it'll be a different story. I'll be in the end zone, we'll be celebrating and all the crowd will be cheering."
In the second half, Centers forced a fumble by wide receiver Hayden Weichers in the red zone. Linebacker Torrey Green recovered it.
"That's a great indication of a playmaker," Wells said of Centers standing out. "He started doing that in practice one and he's done it throughout (spring camp). He did it in the early scrimmages and our mini-scrimmages and then again today.
"He's around the ball and he's in the right place at the right time. Coach (Todd) Orlando is playing him in a bunch of different positions. He's going to be a really good player for us on defense. The big thing is that he's playing with such confidence, you can just see it by the way he carries himself. A lot of that started with special teams last year."
Centers also made a touchdown-saving tackle when he tracked down running back Rashad Hall at the 2-yard line. Hall gained 78 yards on the play.
"My mom is here, so I know I'm going to hear about that," Hall said. "Everybody on the sideline was just like, 'Man, what happened?' Next time it's a game, I've just got to pick it up and not get gassed out."
Linebacker Jarom Baldomero led the defense with eight tackles. In all, the Aggies recorded 10.0 tackles for loss, while forcing three turnovers.
The offense got solid production from a number of players, including Hall, who had 124 rushing yards on 15 carries, while fellow running back Kennedy Williams had 95 yards rushing on 19 carries, including a 4-yard touchdown.
"First of all, I want to talk about the offensive line," Williams said. "They did a really good job today giving us a good push. Our guards on our inside zone were pushing really good. The running backs in general had a pretty good day. A lot of guys stepped up.
"Karris Johnson had a good couple of runs, even Matt Tolbert came in late in the game. Rashad Hall showed that he can be a good person for us this fall. Everything else kind of fell in for us today."
Darell Garretson was 11 of 26 passing for 221 yards and two touchdowns, while Harrison was 13 of 27 for 145 yards.
Redshirt freshman wide receiver Nick Markosian had a game-high five receptions for 60 yards, while Brandon Swindall caught three passes for 71 yards, including a 29-yard touchdown. Ronald Butler caught a five-yard TD pass from Garretson.
Diaz kicked field goals of 42, 20 and 39 yards, respectively, while Jake Thompson connected on a 47-yarder.
"I thought our kickers did well," Wells said. "They stood out to me right out of the gate."
---